Results Oriented Management and Accountability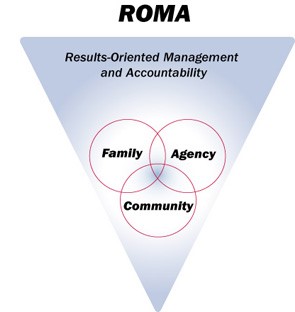 Statewide ROMA Training COMING THIS MAY!
CAAP is able to offer a couple options for your agency to have a ROMA person on staff. This will help your agency meet Organizational Standard 4.3, which requires a Nationally Certified ROMA Trainer (NCRT) or equivalent to implement your plans in accordance with ROMA.
There's a choice between having two different kinds of ROMA staff. There's the Nationally Certified ROMA Trainer (NCRT) – the Trainer most of you know about quite well – and then there is the Nationally Certified ROMA Implementer (NCRI) – a new kind of ROMA staff.
Understand that Implementers help guide the implementation of ROMA within your agency and only your agency. They are NOT allowed to train anyone in ROMA, not even within their own agency, just guide.
…but consider that we also need Nationally Certified ROMA Trainers in Pennsylvania.  We are down to 13 NCRTs in the state and many of you are requesting trainings. We are going to need help in the coming years to ensure compliance with performance measures and monitoring requirements. You can be part of the solution. Trainers will help with 3 trainings each year outside their agency.
Here's how you can apply for one of the two positions.
IMPLEMENTER
The Association of Nationally Certified ROMA Trainers (ANCRT) has created a position equivalent to a Trainer – the National Certified ROMA Implementer (NCRI).  The NCRI candidate will go through a 4-Phase training program. The first part is an online e-course done in the weeks preceding the classroom training (March 15 – April 26). The second phase is a one-day classroom training (May 3rd or 10th). Phase 3 is a 12-week period developing a portfolio demonstrating your experience in using ROMA in your job duties and promotion of ROMA at your agency. The last phase is an on-line Exam taken within 2 weeks of submitting your portfolio.
Through DCED funding, we are able to offer this training for ONE of your agency staff if you do not have an NCRT on staff. The funding covers both the training cost ($775)  and, if necessary, the hotel stay the night before the training. Other travel costs are on your agency.
We are offering 2 opportunities for this training:
May 3rd at the Doubletree Hotel in Reading for agencies located in the eastern part of the state.
May 10th at Westmoreland Community Action for agencies located in the western part of the state.
If you cannot make the training scheduled for your side of the state, you can attend the other training. Please let CAAP know who is attending and we will coordinate reservation information.
If you are interested, go to www.roma-nptp.org to the Application Tab and complete the online application and choose the NCRI radio button.
TRAINER
The Region 3 Train-the-trainer training will be held at the Harrisburg Sheraton this year over May 22, 23 and 24th. This is also a 4-phase training, beginning with an online e-course (April 1 – May 12). The classroom training is Phase 2.  Then a series of practice ROMA trainings with NCRTs makes up Phase 3. The final phase is getting certified when a ROMA Master Trainer approves your performance at a training and the approval is accepted by ANCRT.
We are able to cover a part or all of your Trainer registration fee ($995) depending upon the number who register. We will cover only one staff's costs per agency. All travel costs, including hotel, are on the agency.
If you are interested, go to www.roma-nptp.org to the Application Tab and complete the online application and select the NCRT radio button.
---
Please make sure this year you have either an NCRT or NCRI on your staff.
It is very important that you notify Dan Leppo at CAAP when you sign up for one of these trainings. You can reach Dan at dan@thecaap.org or 717-233-1075.  Put your name, agency, and either NCRI or NCRT in the subject line of your email.
Overview
ROMA was created as a "performance-based initiative designed to preserve the anti-poverty focus of community action and to promote greater effectiveness among state and local agencies receiving Community Services Block Grant (CSBG) funds." (Monitoring ad Assessment Task Force report to the Office of Community Services.) It was Community Action's response to the measurable outcomes called for in the 1993 Government Performance and Results Act. ROMA was applied to the network in 1996, with formal direction issued by OCS in 2001 in Information Memorandum 49. Since that time, a sophisticated curriculum was developed and refined by Dr. Barbara Mooney, before and during her time as Training Director at CAAP, and Frederick Richmond of the Center for Applied Management Practices.
Dr. Mooney is now the Executive Director of the Association of Nationally Certified ROMA Trainers (ANCRT), which houses ROMA information and coordinates training across the United States. Additional background information may be found a on the ANCRT site.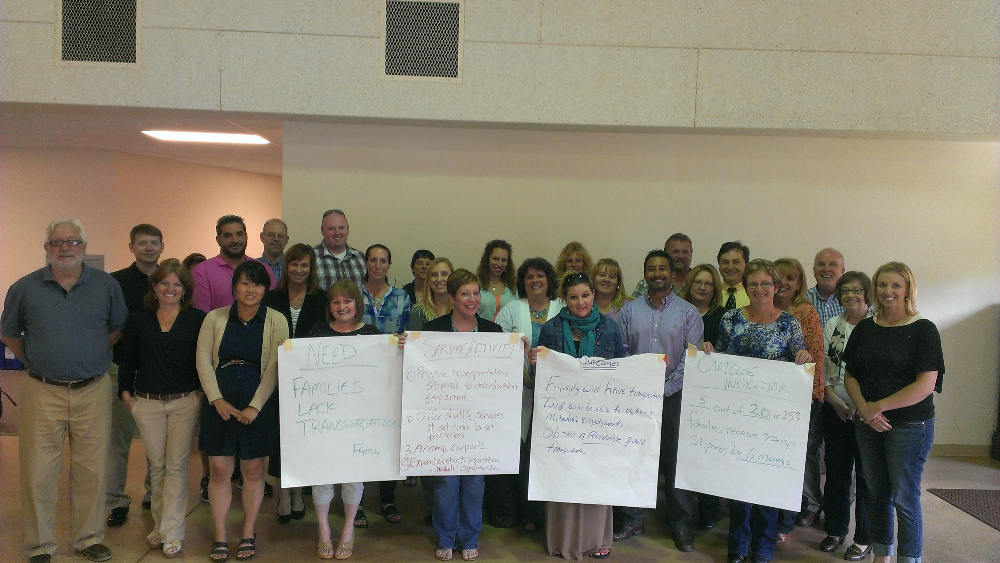 Training Requests
Staff
ROMA training for local agency board and staff can be coordinated through Dan Leppo, CAAP's Development Director and a Nationally Certified ROMA Trainer. Dan will work with the local agency and other NCRT's to establish a date and see that materials are shipped to the agency for on-site training.  The local agency is responsible for the travel costs of the NCRT's.  ROMA training for staff is an all-day training, typically conducted with 3 or 2 trainers who lead the staff through seven modules that build an understanding of ROMA principles and practices to be incorporated into agency operations.  We also offer statewide training for multiple agencies' staff, please refer to the information following the Board training section.
Board
Board training is not quite as intense as the staff training. It is important that the board members understand the reason ROMA should be part of agency operations, its context within Community Action, and be able to follow-up with the executive with how it is incorporated into agency practices, but they do not need to know the practices as staff learns during the modules. Board training may be conducted in one of two ways: on-site with an NCRT or viewing a video developed by CAAP.  The on-site training typically precedes or follows a staff training with the trainer providing an approximately one-hour overview of ROMA.  Without an NCRT present, the board may also view the ROMA for Board: An Introduction video, but the minutes of the meeting should make note of a review and discussion of the key points following the viewing, indicating the board's comprehension of ROMA.